Feller Yachting selects Plettenberg as supplier of the electric propulsion system for "Ella".
The Challenge
Feller Yachting is a leading designer and manufacturer of boats and light transport vessels. As part of a research project, Feller Yachting developed an innovative uncrewed light transport vessel for inland shipping named Ella. Designed as a 15-meter model ship, Ella is one of the first electric inland vessels that will run fully autonomously. Feller Yachting reached out to Plettenberg for the design of a tailored propulsion system. The motors should be customized to the project requirements, be able to operate under harsh conditions and need to be extremely efficient.
The Solution
Plettenberg worked hand in hand with Feller Yachting to develop a propulsion system, which is tailored to the specific requirements of Ella. The final solution is based on two NOVA 15-50 with water cooling and external motor controller for propulsion as well as a NOVA 15-30 with integrated controller for the bow thruster. The motors are in closed housing with IP 54.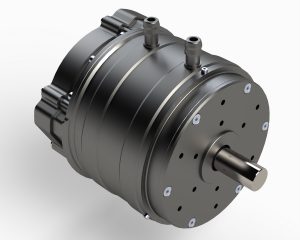 The Benefit
Feller Yachting received a tailored propulsion system that fulfilled all its requirements. During the project phase, the Plettenberg team supported Feller Yachting with engineering and integration support. The developed propulsion system has market leading power-to-weight and efficiency ratios. The ship christening took place on March 3rd, 2023 and Ella commenced its first test runs near the German city of Dortmund.
Contact information
Feller Yachting
Auf der Bleiche 8
58300 Wetter | Ruhr, Germany
+49 (0) 23 35 – 967 549 6 
info@felleryachting.de 
www.felleryachting.de