Plettenberg provides the electric propulsion motor for the Spy Ranger UAV of Aviation Design
The Challenge
Aviation Design is a leading developer and manufacturer of UAVs, aerial targets, sub scale demonstrators and wind tunnel models for defense and civil applications. The company produces drones under license for major aerospace companies and is authorized by the French Ministry of Defense for building and marketing defense products. One of the flagship projects is the Thales Spy Ranger Program, a contact airborne intelligence, surveillance and security UAV system.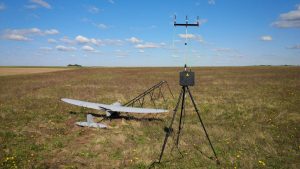 The Spy Ranger was selected by the DGA to be operational for the French army. Aviation Design was looking for a highly robust, light weight and efficient propulsion system for the Spy Ranger. The electric motor had to be able to operate in harsh conditions, such as high altitude and extreme weather conditions, including snow and rain. The efficiency and power-to-weight ratio was also very important to support extended flight ranges.
The Solution
Plettenberg is a leading developer and manufacturer of tailored electric drive systems for high performance applications. With its NOVA and ADVANCE series, the company is a global leader in high-performance inrunner BLDC motors for UAV applications. The product range also includes outrunner BLDC motors, brushed DC motors,
ESCs as well as generators and starters. Plettenberg offers drive systems in the power range from 20 W to 50 kW.
Plettenberg worked hand in hand with Aviation Design to develop a propulsion motor, which is tailored to the specific requirements of the Spy Ranger UAV. The final solution is a motor design based on the ADVANCE series, but manufactured with closed housing for increased protection class. The motor is rated IP 52 and able withstand harsh environmental conditions. It has up to 1.5 kW of power and max. efficiency of >90%.
The Benefit
Aviation Design received a tailored propulsion motor that fulfilled all its requirements. During the project phase, the Plettenberg team supported Aviation Design with drive system engineering and integration. The developed motor can operate in the harshest environmental conditions, such as high altitude, snow and rain. The propulsion system is highly efficient over the entire load profile of the application. In addition, it is compact in size, light weight and has a very strong power-to-weight ratio. All these factors helped to extend the flight range significantly. Following design, prototyping and test phase, the system went into series production and has been a full success.